LARGE SCALE PROTOTYPING (LSP) MACHINE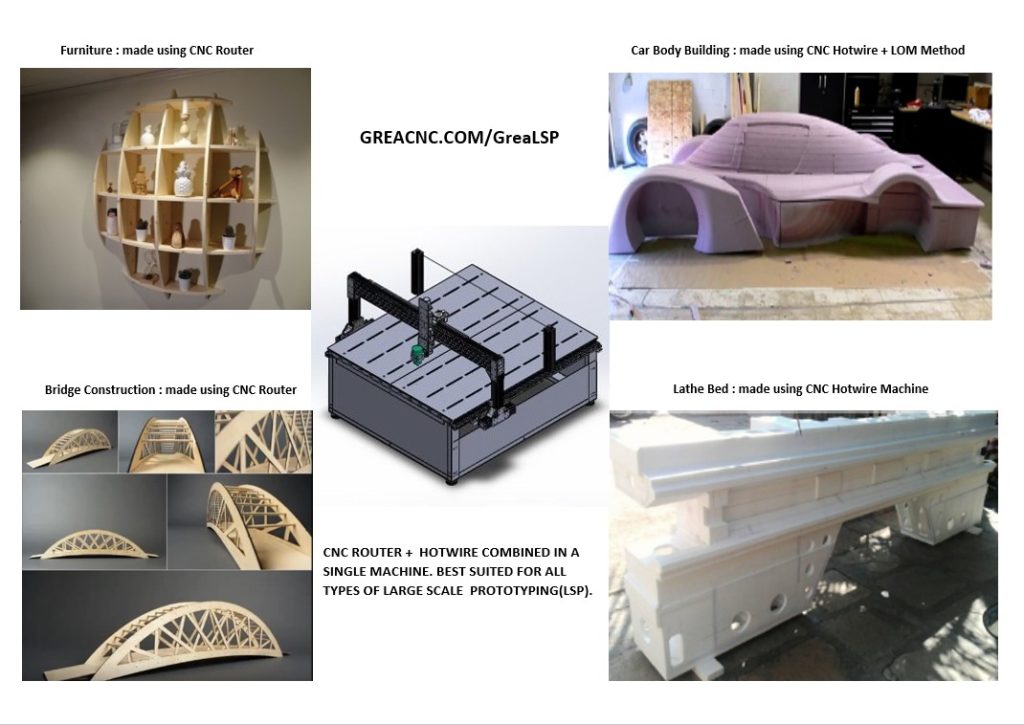 GreaLSP is a Large Scale Foam rapid prototyping machine, capable of cutting, carving very complex geometric shapes in foam. Operations like Extrude cut, revolve cut, TwistTurn parts, STL parts etc. can be cut. Once the shape is available in foam, it can be converted to various other materials like Metal ( by Investment casting), FRP, Concrete, POP , Ice Sculpture etc. etc.  
It is a complimentary prototyping technology to the popular FDM 3D printing , with the following advantages:
Advantages of Foam rapid Prototyping :
1) FDM 3D printers can print very complex shapes, but printing speed, size and material choice has limitations. In LSFRP , very large size prototypes can be built in a few minutes ( Extruded, revolved shapes, LOM etc. ).
2) Both positive and negative of the part can be obtained in a single cutting operation.
3) Investment casting is possible. No need to plan draft angles in the design, prototyping stage: as the pattern is not taken out of the sand.
4) Post print corrections/additions are very easy, as wide range of manual carving, shaping, gluing tools available for EPS foam.LSP
INDUSTRY APPLICATIONS VIDEO :