TESTIMONIALS AND CLIENTELE
To provide highest level of client satisfaction is our ultimate goal being a customer oriented organization. We focus on customer satisfaction through transparent dealings and by following ethical business strategies.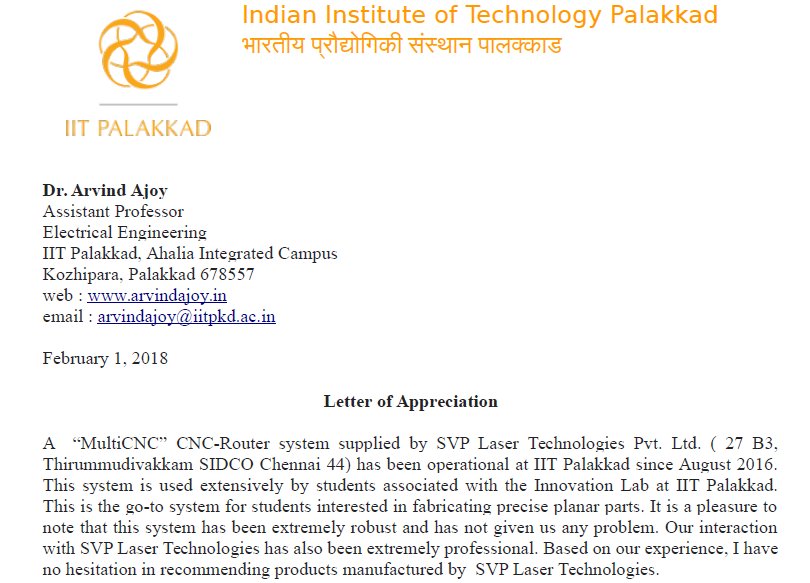 DR. ARVIND AJOY, ASSISTANT PROFESSOR, IIT PALAKKAD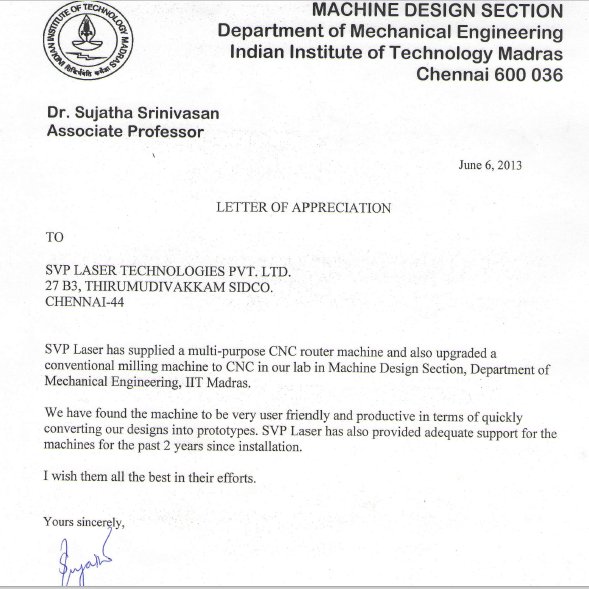 DR. SUJATHA SRINIVASAN, ASSOCIATE PROFESSOR, iit MADRAS
After placing the order for puf machine, within 10 days the machine was installed. I really appreciate the promptness and adherence to delivery date.
OMKAR PUF INSULATION –  MUMBAI
My old cnc machine was not working. I called and the engineers and technicians were able to reassemble the whole machine and make it work. 
The training they gave during installation was so good that even my employees with no prior knowledge were able to operate the hotwire machine. 
I was making decorations in thermocol manually. After buying the cnc hotwire machine my business improved ten times! Very easy to use.
DEEPAK CHATTISGARH – DECORATOR
The CNC hotknife machine is very easy to use for decorations. My work is reduced and I am able to make hundreds of designs very easily.
When I had a problem I called them and immediately the team came to my help and solved my problem. My business was not at all affected. Great team.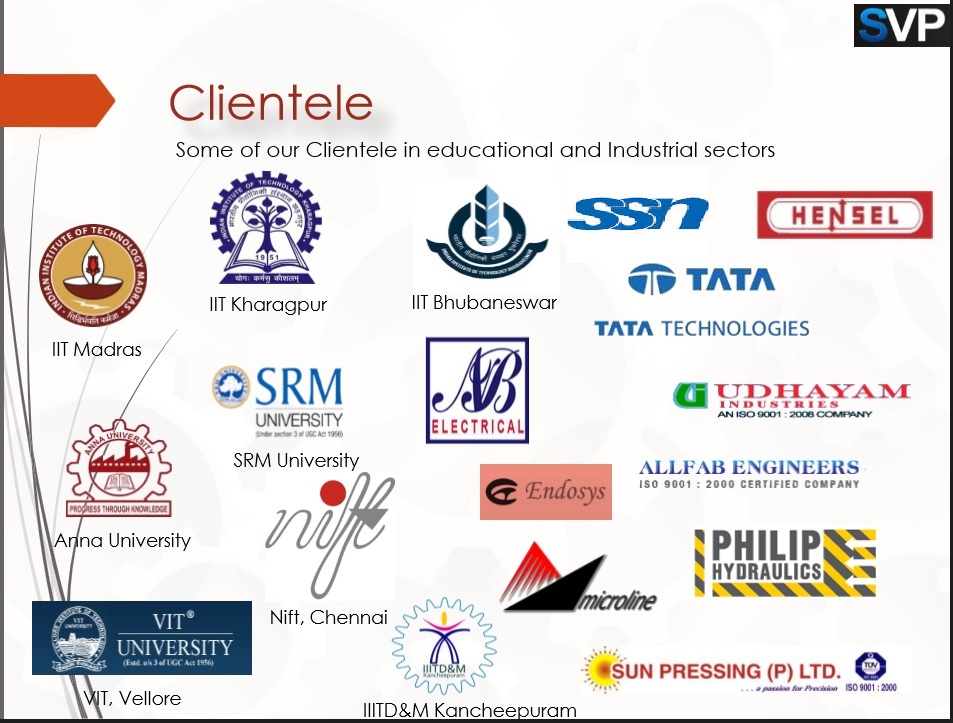 EDUCATIONAL
Dept. of Mechanical Engineering, IIT Madras, Chennai
Dept. of Mechanical Engineering, IIT Kharagpur
Dept. of Mechanical Engineering, IIT Bhubaneswar
Dept. of Mechanical Engineering, IIITD&M, Kancheepuram
IIT Bombay – TCTD Lab
Central Workshop, College of Engineering Guindy, (Anna University) Chennai
Manufacturing Engineering Department, CEG, (Anna University) Chennai
School of Architecture & Planning, CEG, (Anna University) Chennai
Dept. of Production Technology, MIT, Chromopet, Chennai
V.I.T University, Vellore
V.I.T University, Chennai
SRM University, Chennai
Engineering Staff College of India (ESCI), Hyderabad
National Institute of Fashion Technology (NIFT), Chennai
B.M.S. College of Engineering, Bangalore, Karnataka
Sri Aravindar Engineering College, Villupuram
Sri Venkateswara College of Engineering and Technology, Chennai
Valliamai Engineering College, Chennai
TSM Jain College of Technology, Salam
Jawahar Engineering College, Chennai
Govt. Polytechnic,Chamrajanagar,Karnataka
NadarSarawathi College of Engineering and Technology,Theni
Siva Institute of Frontier Technology – Technical Campus,Thiruvallur
Chettinad College of Engineering & Technology, Karur
VidhyaMandhir Institute of Technology, Erode
Smt.L.V.Govt Polytechnic Hasan – Karnataka
SakthiMariamman Engineering College, Thandala, Chennai
Sri Venkateshwara Institute of Engineering, Krishnagiri
Hosur Institute of Technology & Science, Krishnagiri
Cholan Polytechnic College, Kancheepuram
R.V.S School of Architecture,Chennai
Mookambigai college of Engineering, Trichy
Lalgudi co-operative polytechnic college, Trichy
RVS School of Architecture, Sulur
Chanakya community college, Raichur
Agni School of Architecture and Design Excellence, Dindigul
Kongu College Of Engineering.Erode
VPMM College Of architectutre-Rajapalayam
Kalasilingam University-Krishnan Koil
NIT Sikkim
Shakthi school Of Architecture-Tarapuram
Trichy Engineering College-Trichy
Sri Sivasubramanya Nadar College Of Engineering-Chennai
Hindhusthan College Of Engineering and Technology-Coimbatore
Government College Of Engineering-Tirunelveli
Agni College Of Technology- Chennai
Agasthya International Foundation- Bangalore
Sidhartha Institute Of Engineering And Technology- Rangareddy District Telangana  
Dhirajlal Gandhi College Of Technology- Salem
Veltech Technology Incubator- Chennai
Rajalakshmi Institute Of Technology Chennai
KL UNIVERSITY Vijayawada
Amity University-Noida
Amity University-Mumbai
Gudlavalleru Engineering College -AP State –Telangana
Foundation for sand box startup initiatives
Amirta Vishwa Vidyapeetham-Research
PSG Institute Of Technology And applied Research-Coimbatore
Lokamanya Tilak Institute Of Architecture And Design studies-Mumbai
Hyderabad Central University-Hyderabad
Cresent university-chennai
KIIT,Bhubaneswar
Amity University,Panvel,Mumbai
Awantika University,Ujjain,MP
LTIADS: Lokmanya Tilak Institute of Architecture & Design,Navi Mumbai                            IIT Jammu
IIT Aeronautical Department Mumbai
KIIT
NIT Trichy
       
INDUSTRY
TATA Technologies, Pune
TATA Motors ,Pune
Microline India Pvt. Ltd.
Endosys Technologies Private Limited
JJ Equipments, Coimbatore
Temple Jewellers, Kumbakonam
Hensel Electric, Chennai
Austral Door Hardware, Chennai
Udayam Industries, Chennai
Sun Pressing, Madurai
Seven Star Aircon
All Fab Engineers, Chennai
Sri Krishna Electric
Sri Nidhi Tools
K2 Cranes
Priya engineers
United Engineers
Star Pac
Philips Hydraulics
Bharath industries
Swastik Arts, Belgaum, Karnataka
Suraksha Enterprises, Karnataka
Devi polymers , Chennai
Balaji products-Mumbai
Rishab Thermocol Arts Pune
EPS Fab Processors-Hyderabad
SR Thrmocol -Pune
Shri Venus Energy Systems -Chennai
Rotocast Industries Ltd.,Raipur
Thermocol Packaging Molds – Niraj
Thermocols & Electricals Pvt. Ltd,Nashik
JOT PACKAGING PVT. LTD. Vadodara, Gujarat, India
Windsor Industries Private Limited,Kurali,Punjab
Bright Group,Patna, Bihar
Krsna Packaging Pvt. Ltd. Pune
Omkar Puf Insulation Pvt.Ltd. Rabale,Thane,Mumbai
Alaska Puf Industries,Ahmedabad
Atarva Foundries pvt ltd- wai-pune
Usara Polymers Pvt ltd-Navi Mumbai
Aduex Delhi
J K Eps packers – Hyderabad

EXPORTS
New Bridge Electrical Enterprises, Philippines
Trusted Freshness Canada
Styrene Insulation Industry – Abhudhabi